Go back to the first chapter of Blow Out the Moon. (If you were reading the prequel "The Adventure of the Very Loud Living Room, please use your Back button.)
I can't draw what I imagined when the mothers said "ringleader," so I found these.
The pictures KIND OF give the idea, but there should be MORE circling around the ringleader,
all in the same picture: the audience clapping, horses galloping, people leaping between trapezes, lions and tigers ...
What else? What do YOU picture when you think of a circus ringmaster? If you draw it and then send it to me, I'll post it on the site.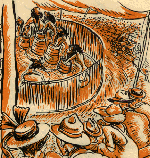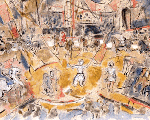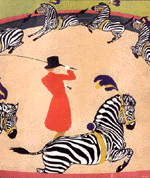 Email me
If you write to me, I promise to write back. If you draw something from my book, cat's cradle, or one of the stories or fairy tales, I'll put your letter or illustration up on the site if you say I can.

Libby.koponen@gmail.com
Hi,
If you just came to this Web site: it has fairy tales, instructions for cat's cradle, and a book about an American girl (me!) who goes to boarding school in England called

| | |
| --- | --- |
| | To start the book at the beginning, go to: Chapter One (the beginning of the published book) |

Or start reading the real book!

| | |
| --- | --- |
| The published book is more about the boarding school in England than the prequel. You can order the book from barnesandnoble, amazon, etc.or, starting in June, buy the paperback in bookstores. | |