A spunky American girl goes to an English boarding school.

"Delightful," Booklist, starred review

"... makes you laugh out loud," Just Books

"Koponen is a gifted writer," School Library Journal.

This true story was first edited by a girl named Miranda -- I told her to cross out anything that was boring. She and many other girls have read it over and over since then. I know because readers email me:

"Lately I've been reading books about girls my age whose boyfriends dump them and stuff like that. My mother saw your book in the library and I told her I wouldn't like it but she brought it home anyway. I read it and I LOVE IT! I read it in 2 days!"

"I have read your book, Blow Out the Moon so many times, and loved it every single time! You once came to my school, Bancroft Elementary School, and you taught us "Going Home Tomorrow" [a song in the book]. I was in 4th grade at the time and now I'm going into 7th grade and still reading over and over your book!"


It has also been given 2 awards and many good reviews.
Sample chapters (with extra illustrations and links)

First boarding school chapters (also with extra illustrations)
Chapter 15. Talking to a Real Horse
If you've already read the book, you might enjoy looking at some chapters that weren't in it, and pictures of Kenny, Peg, Pat, and Emmy. Warning: These chapters are LONG and very detailed! Some people liked them the best, some people hated them!) See what you think.

Extra chapters (not in the printed book! These are mainly for my loyal readers:

The Adventure of the Very Loud Living Room
Sneak Preview
If you read the book, you�ll figure out what I was like � I�ll just say now that when my friends and I got caught doing something a mother usually said:

�I suppose you were the ringleader, Libby?�

I thought of this as a compliment. It wasn�t meant to be one, I know, but the word made me think of the circus and being in the center of all the excitement and fun.
How to play cat's cradle
Sing the songs in the book and play them on the piano
Make hovercraft (Libby and Henry's attack saucers) from old CDs & a few other things
Letters, Drawings, and Stories by Kids
(This is where I will put what you send me.)

Rhiannon's Version (a reader made paintings, collages, and pop-ups to illustrate her version of Blow Out the Moon)
Stories by people aged 7 to 15, including Libby
I hope you'll email me (Libby, the author) and tell me what you think of my book!
Libby.Koponen@gmail.com
I ALWAYS answer letters I get from people who have read the book (though sometimes it takes me awhile). If you don't get an answer, please check your spam folder or resend your email! My not answering probably means either that your email didn't reach me or mine didn't reach you. Please resend it to the gmail address, NOT the email in the printed book!
�Libby's joyous times at Sibton Park make you laugh out loud.� 8th grader writing in Just Books
*�Delightful,� Booklist (starred review).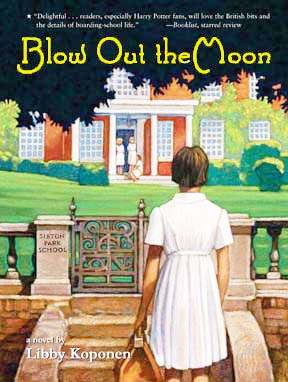 Fairy Tales: Famous and Not So Famous

Rumplestiltskin

East of the Sun and West of the Moon

Jack and the Beanstalk

Cinderella (two versions)
Little Burnt Face (Micmac Cinderella)

Red Riding Hood (two versions)

Hansel and Gretel

Sleeping Beauty
Jack, the Cunning Thief

The Story of the Youth Who Set Out to See
What Fear Was

The Charmed Life, or the Princess and the Lift Man (This is by E. Nesbit -- it's funny)
COVERS AND A REQUEST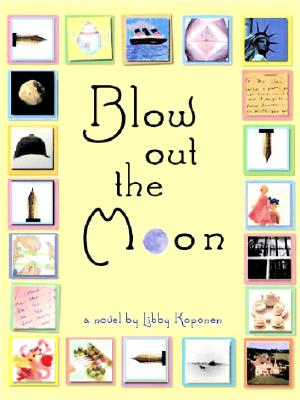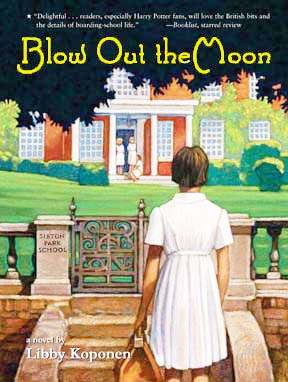 If you liked the book and see it on a shelf withonly its spine showing, would you turn it face out for me? (That way more people will see it.) If you do this: THANK YOU!
TO MY LOYAL READERS (I understand now why old-fashioned novels say "DEAR readers." That's how I feel about the people who have written to me -- you ARE my dear readers.) : I'm updating this Web site -- which version do you like better? I'll be adding more links and fixing broken ones, too.
Some girls riding (if you've read the book -- they're in the stable yard. The building where we had the play is in the background):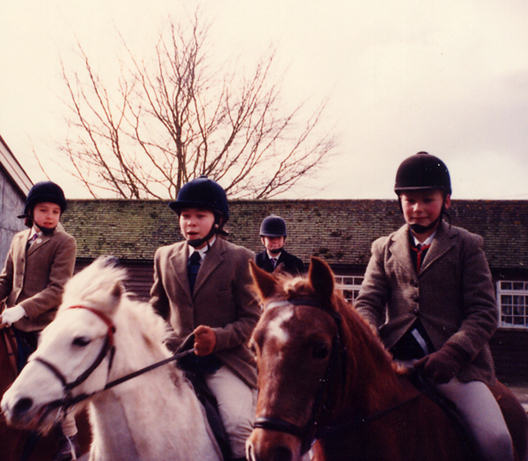 The back and one side of the real boarding school. Click it to see a bigger photograph.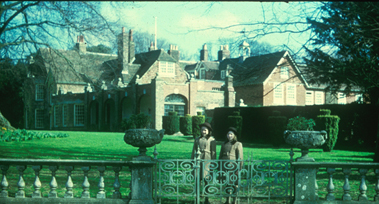 Part of the drive and front of the house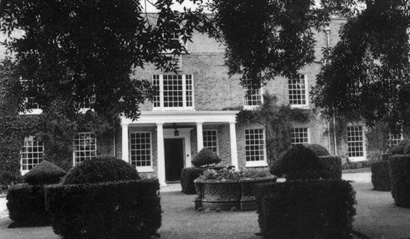 The front and back look different because they were built at different times (the house was started in the 1300s and added onto over the years).
Libby's best friend at the boarding school at the beginning of their riding lesson.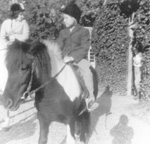 Part of the top row in the school picture -- Linda Jay is the one with the braids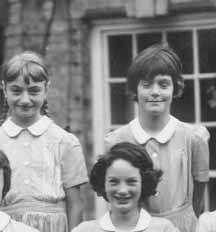 Click to see a map and more pictures of the boarding school.
FROM RHIANNON's VERSION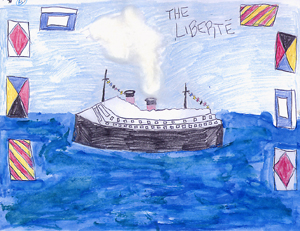 From Rhiannon's version of the book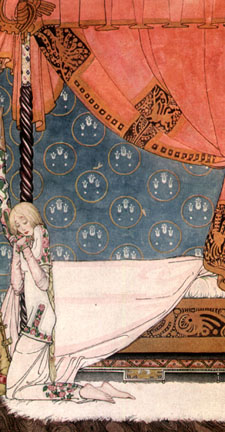 Kay Nielsen illustrations for "East of the Sun and
West of the Moon."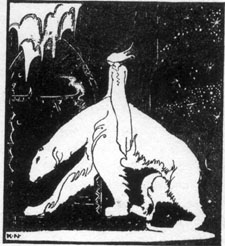 This is what an eighth-grader wrote about Blow Out the Moon in a kids-only paper called Just Books:
"This tale of a young girl's voyage to England and the total difference in life styles is fascinating. Libby doesn't want to move to England, she wants to stay with her friends, especially with Henry. Libby is fascinated by the long boat ride, but when she reaches England Libby isn't happy. She longs for the sunshine and her American life. The people at school aren't nice and Libby wants to leave, until she finds Sibton Park, an English boarding school for girls, and one boy. It offers horseback riding lessons, and to Libby's horror, table manners. Libby's joyous times at Sibton Park make you laugh out loud and her funny point of view is great. Sibton Park comes alive as you read this interesting, funny story of Libby Koponen's childhood." -- eighth grader writing in Just Books
If you read it, please write and tell me what you think! I'll write back, I promise. My email is:
Libby.Koponen@gmail.com
Blow Out the Moon (novel), and ifyoulovetoread.com copyright © 2004 Libby Koponen. All rights reserved. No part of this work may be reproduced in any form or by any electronic or mechanical means including information storage and retrieval systems without permission in writing from the author or publisher.
To anyone who went to Sibton Park: I had to take the rest of the chapters down -- but I will be happy to email the Sibton Park chapters to you if you would like to see them....and there's a Sibton Park page on Facebook now!
Image above from Chapter 14., Sibton Park, as illustrated in First Choice, an anthology edited by Gitte Frandsen and Tania Kristiansen.
Copyright © 2006 Glydendal, Denmark.